Atchafalaya Waterways Scavenger Hunt
This scavenger hunt guides students through the Atchafalaya National Heritage Area's Waterways & Structures, Part 1 of their curriculum guide. It is intended for 2-7 grades. The scavenger hunt includes fill in the blank and Questions/Answers activities. These activities may be adapted by teachers for their classroom. The answers are provided for the 6-page pdf.
The Atchafalaya National Heritage Area (AHNA) contains some of this nation's most beautiful and mysterious landscape. It houses bayous, lakes, marshes, and swamps along with countless wildlife and tree specimens, and over 270 species of birds. But life in the AHNA is much more. The bounty of the water, the music, the people, all contribute to making AHNA a country within a country.

Use information from the Waterways & Structures Education Resource to complete the scavenger hunt below. Download the booklet at http://www.atchafalaya.org/ckfinder/userfiles/files/Curr1Waterways.pdf
---
Click on the image below to open up the activity.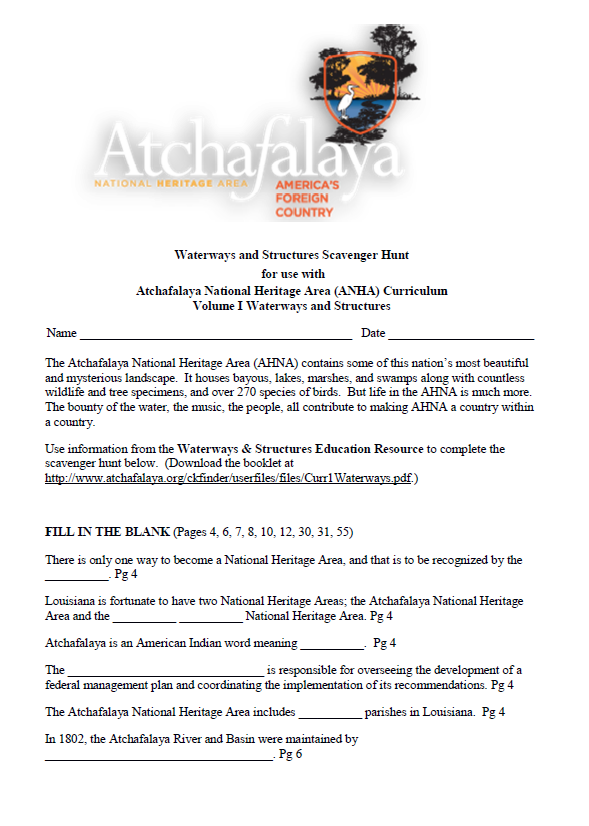 Answer Key