Atchafalaya Natural Resources Scavenger Hunt
This scavenger hunt guides students through the Atchafalaya National Heritage Area's Natural Resources Education Resource, Part 2 of their curriculum guide. It is intended for 2-9 grades. The scavenger hunt includes fill in the blank, true/false, and questions/answers activities along with a bookmark project. These activities may be adapted by teachers for their classroom. The answers and a sample book mark are provided for the 3-page pdf.
The Atchafalaya National Heritage Area is a bountiful land with many natural resources. The Basin provides habitat for a diverse array of wildlife, including the American bald eagle and Louisiana black bear. The area is home to more than 85 species of fish, crawfish, and other crustaceans; many migratory waterfowl; forest-dwelling mammals (such as deer, squirrel, and beaver); and other commercially important furbearers. Well over 270 species of birds—some of them endangered—have been recorded in the Basin and its surrounding natural areas. Native Americans, early settlers, railroaders, road builders, loggers, and oil and gas explorers have all utilized the richness the region. Cypress and other hardwood forests provided building material and fuel for fireplaces. Water resources provided transport. The fertile soils made good cropland. A bounty for all!

Download the second booklet about the Atchafalaya National Heritage Area at http://www.atchafalaya.org/ckfinder/userfiles/files/Curr2NatRes.pdf and use it to complete the scavenger hunt below!
---
Click on the image below to open up the activity.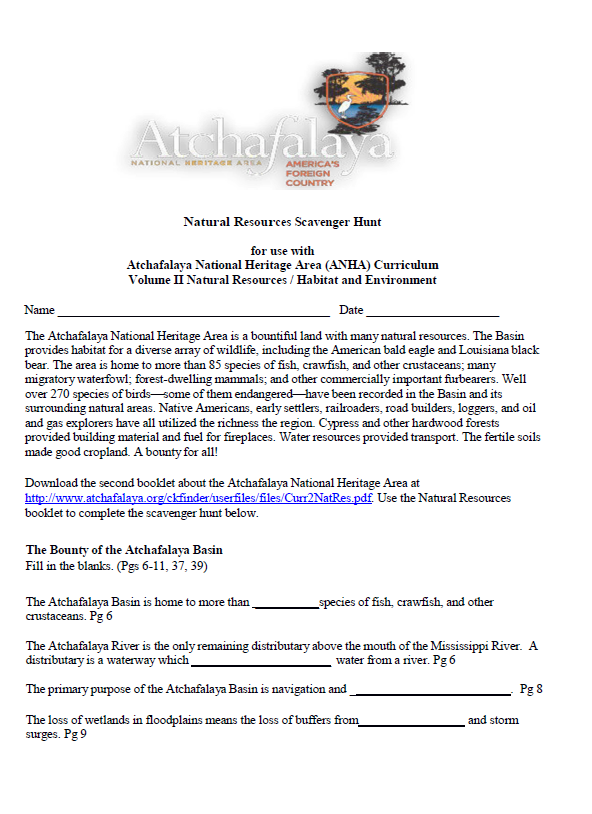 Answer Key